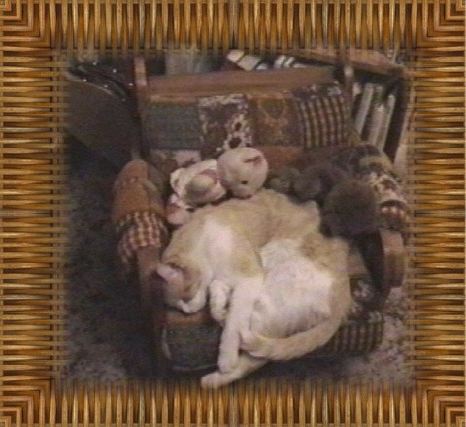 August
Feedback Box:

Making a great performance come together takes more than mere musical genius. You have to "play politics". You have to make friends and build relationships. Here I am socializing with the bass player and the lead singer, a very august group.
(Kids: buy my whole calendar! $7 at the Family Music Center, 4110 SW 9th, Des Moines Iowa!)
How Seriously Should You Practice?

(Parents, this is offered as a resource to help you explain practicing to your child.)
A long, long, long time ago, before moving pictures, before cars, before guns, before fireworks, before printed books, even before computers, there was a king whose land was constantly attacked by terrorists.
The king visited a prophet who was dying.
The prophet wanted to help. The prophet told the king to grab a handful of arrows and hit the ground with them. The king obeyed. Once, twice, three times. Then he stopped and gave the prophet a look like, "OK, so now that's out of the way, what's on your mind?"
The prophet was mad! "You should have hit the ground five or six times! Now, because you struck only three times, you will stop the terrorists only three times, and then they will come back! Had you struck five or six times, you would have been able to destroy them!" (2 Kings 13:15-19)
If I were the king, I would have been puzzled. I would have complained, "well, had you told me that, then of course I would have struck more! Geez, if it was that important, why didn't you say so? Why did you wait to tell me after it was too late to do any good? What kind of crazy prophet ARE you? Here, let me slap these poor broken arrows five or six HUNDRED times for you now that I know how important it is to you!"
But now I realize that would have been dumb.
Can you figure out why? Can you figure out why the prophet was right, and why the test wouldn't have worked had he explained it first?
You see, we are like the king. We have accepted the responsibility to practice almost every day.
But we don't understand what is so important about practicing every day, just like the king didn't understand what was so important about slamming a bunch of silly arrows on the ground.
Yet we, just like the king, will fail hard tests, if we get lazy with easy tests.
We can't do everything. But once we decide what to do, we must develop the habit of doing it well.
Because if we get in the habit of being sloppy, and failing, how will we get important things done?
The more we make laziness a habit, and get used to failure, the more we tell ourselves, "I'm just not very smart. So it's no use trying really hard this time: I will probably just fail again, anyway."
There is an easy solution that will make you successful and smart: whatever you decide to do, do it really well. As a very wise man once wrote, "Whatsoever thy hand findeth to do, do it with thy might."
One even wiser warned that we should double the talents with which we begin, if we want to really live. To stop learning is to stop growing up, which is to live half dead. ((Ecclesiastes 9:10, Matthew 25:14-30))
There is nothing wrong with deciding music is taking too much time from more important talents you want to develop. But it is a mistake to quit to do things that don't build useful, brain-building skills that will help you reach your goals now and later, and will help you bless others.
Another reason to take this opportunity seriously is that it will encourage your parents to invest in you later. If you get in the habit of throwing away hundreds of dollars worth of opportunities like this, how are they going to feel, a few years later, about spending tens of thousands of dollars to put you through college?
Renting instead of buying outright adds 50 to 100% to the cost of an instrument, so the ONLY reason parents would rent instead of buy is doubt whether you can stick to your commitment. If they can't trust you to stay with your commitment for even a few months, enough to invest a few hundred dollars in you, will they have that much more confidence in you seven years from now, to invest tens of thousands of dollars into your future?
Whatever your need, their concern will never be whether you are worth it. They love you; anything you will actually use, to make yourself better, will always be worth it to them. Their only concern will be, "if I drain the family budget for this, will it be used?"
Don't make them ever have to ask themselves that question about you.
Even God wants you to be very successful. He wants you to be more successful than you can ever imagine, and He is waiting to help. He even invites you to order mountains out of the way, and then watch them march off. (Mark 11:23, Matthew 21:21)
But not even God can figure out how to please you, if what you do is different than what you said you would do. Or is inconsistent with what you want. (James 1:6-8)
The more quality you put into your lesser responsibilities, the more you will be trusted with greater opportunities by your parents, by everyone else, and even by God. (Luke 19:15-19)
Practicing a musical instrument may not be the most important thing you can do with your life. But doing your best, in everything you do, is. If you haven't developed that habit yet, now is a great time to start! Music is one of the few things you can do in life that is so much fun that when you are working your hardest, people say of you that you are "playing"!
There are terrible things in this world, but "with God nothing shall be impossible." Luke 1:37. The goals that matter most require every ounce of your energy and concentration. Make success a habit. Don't come to the end of your life thinking of all the goals you gave up because you didn't think you could succeed.
How, and how Much, Should You Practice?
How much should you practice?
"30 minutes a day" is the standard answer music teachers have given for decades. Teachers who grade on the basis of practice report cards usually give an "A" for 30 minutes a day.
30 minutes a week is the answer, if you would like to be an average student playing the last part in your section, but still allowed to go on band trips, wear a snazzy uniform on the football field, and sell band candy.
2 hours a day is the answer, in case you would like to play solos with your high school band, earn a full scholarship in a top university, and make good money playing so you can graduate without debt.
(In case you do want to practice that much, you may need to build up the necessary physical strength gradually, just like building up to running 20 miles.) How should you practice? What should you practice all that time? In 30 minutes a week, you can probably stumble through your assigned songs at least twice. What more can you do with more time?
"I just want to have fun" level: Play each song 3 times in a row, every day. If part of a song is hard, practice that part until it is easy. I
If your lesson book has a CD with it, practice until you can keep up with it. If it doesn't, time how long it takes to play each song. If it takes over 20 seconds to play 8 measures, learn your notes better.
If you play a "wind instrument" (that you blow into) and your lips get tired, another way to practice is to finger your instrument as if you were playing but without playing.
Practice until your songs sound better each day than the day before.
Review old music until you can play with confidence. Play for friends and family.
Don't waste time. Don't let your mind wander. Get excited about getting better.
"I want to be First Chair" Level:
Memorize all the notes on your fingering chart and learn to play all of them fast.
Review rhythm basics (whole, half, quarter, eighth, etc. notes; dotted notes; rests) until you can easily read every rhythm in your book.
Get a metronome, and have your teacher mark the metronome settings for each song; and practice until you can keep up with it.
Practice until you can play each song 5 or 6 times in a row perfectly. After that, you will not be nervous playing for an audience, because you have developed the habit of expecting to do well. When you KNOW you will do great, you won't be afraid to play in front of a big audience.
Practice until you play so well and so consistently that at your lesson, your teacher won't be able to find any fault with your playing, and will have to spend the lesson time showing you new marvels in the world of music which he never has time to show you when he has to spend the whole lesson helping you struggle through your songs.
I want you to be successful. As long as you are trying music, I want you to do very well. I want you to enjoy the pleasure of learning fast, and thrilling audiences. I want you to experience the joy which fine music offers you personally. That is why we offer 2 free lessons with every rental: we hope you will take advantage of it. We hope you will let us have the pleasure of helping you excel. That's why we offer a scholarship for any student who practices an hour a day: the price of lessons for you is whatever you can comfortably afford. Also, if you want it, we offer a one hour lesson for the same price.
That's why we also offer free "normal wear and tear" repairs while you are renting, and we invite you to bring the instrument in as often as you like so I can check it, to make sure it is still in top adjustment.













The Practice Fairy
Read about the Practice Fairy in April
Verses in these articles
2 Kings 13:15-19 And Elisha said unto him, Take bow and arrows. And he took unto him bow and arrows. 16 And he said to the king of Israel, Put thine hand upon the bow. And he put his hand upon it: and Elisha put his hands upon the king's hands. 17 And he said, Open the window eastward. And he opened it. Then Elisha said, Shoot. And he shot. And he said, [that represents] The arrow of the LORD'S deliverance, and the arrow of deliverance from Syria: [terrorists who were trying to completely destroy Israel] for thou shalt smite the Syrians in Aphek, till thou have consumed them. 18 And he said, Take the arrows. And he took them. And he said unto the king of Israel, Smite upon the ground. And he smote thrice, and stayed. 19 And the man of God was wroth [angry] with him, and said, Thou shouldest have smitten five or six times; then hadst thou smitten Syria till thou hadst consumed it: whereas now thou shalt smite Syria but thrice.
Ecclesiastes 9:10 Whatsoever thy hand findeth to do, do it with thy might; for there is no
work, nor device, nor knowledge, nor wisdom, in the grave, whither thou goest.
Matthew 25:14-30 For the kingdom of heaven is as a man travelling into a far country, who called his own servants, and delivered unto them his goods. 15 And unto one he gave five talents, to another two, and to another one; to every man according to his several ability; and straightway took his journey. 16 Then he that had received the five talents went and traded with the same, [opened a business] and made them other five talents. 17 And likewise he that had received two, he also gained other two. 18 But he that had received one went and digged in the earth, and hid his lord's money. 19 After a long time the lord of those servants cometh, and reckoneth with them. 20 And so he that had received five talents came and brought other five talents, saying, Lord, thou deliveredst unto me five talents: behold, I have gained beside them five talents more. 21 His lord said unto him, Well done, thou good and faithful servant: thou hast been faithful over a few things, I will make thee ruler over many things: enter thou into the joy of thy lord. 22 He also that had received two talents came and said, Lord, thou deliveredst unto me two talents: behold, I have gained two other talents beside them. 23 His lord said unto him, Well done, good and faithful servant; thou hast been faithful over a few things, I will make thee ruler over many things: enter thou into the joy of thy lord. 24 Then he which had received the one talent came and said, Lord, I knew thee that thou art an hard man, reaping where thou hast not sown, and gathering where thou hast not strawed: [making a profit where you did no work] 25 nd I was afraid, and went and hid thy talent in the earth: lo, there thou hast that is thine. 26 His lord answered and said unto him, Thou wicked and slothful [lazy] servant, thou knewest that I reap where I sowed not, and gather where I have not strawed: 27 Thou oughtest therefore to have put my money to the exchangers, [at least invested my money] and then at my coming I should have received mine own with usury [interest]. 28 Take therefore the talent from him, and give it unto him which hath ten talents. 29 For unto every one that hath [takes care of what he has] shall be given, and he shall have abundance: but from him that hath not shall be taken away even that which he hath. 30 And cast ye the unprofitable servant into outer darkness: there shall be weeping and gnashing of teeth.
Mark 11:23 For verily I say unto you, That whosoever shall say unto this mountain, Be thou removed, and be thou cast into the sea; and shall not doubt in his heart, but shall believe that those things which he saith shall come to pass; he shall have whatsoever he saith.
Matthew 21:21 Jesus answered and said unto them, Verily I say unto you, If ye have faith, and doubt not, ye shall not only do this which is done to the fig tree, but also if ye shall say unto this mountain, Be thou removed, and be thou cast into the sea; it shall be done.
James 1:5-8 If any of you lack wisdom, let him ask of God, that giveth to all men liberally, and upbraideth not; and it shall be given him. 6 But let him ask in faith, nothing wavering. For he that wavereth is like a wave of the sea driven with the wind and tossed. 7 For let not that man think that he shall receive any thing of the Lord. 8 A double minded man is unstable in all his ways.
Luke 19:15-19 And it came to pass, that when he was returned, having received the kingdom, then he commanded these servants to be called unto him, to whom he had given the money, that he might know how much every man had gained by trading. 16 Then came the first, saying, Lord, thy pound hath gained ten pounds. 17 And he said unto him, Well, thou good servant: because thou hast been faithful in a very little, have thou authority over ten cities. 18 And the second came, saying, Lord, thy pound hath gained five pounds. 19 And he said likewise to him, Be thou also over five cities.
Luke 1:37 For with God nothing shall be impossible.